The Man Who Wanted To Fly
On Tuesday 18th August, we took a wonderful trip to The Picture House in Hebden Bridge with our lovely Community Friends and incredible Volunteers. After 18 months or so with everyone being cooped up and often in a state of worry it was great to finally get together and go out to watch The Man Who Wanted to Fly.
Organising events like this can really make a difference! It was wonderful to get everyone together and experience this marvellous film as a group.
For some of our community friends this was the first time they have properly left the house and been on any sort of outing – Community Friend, Kathryn Reyner was one such who managed to join us for this event:
"I have not left the house during all of Covid and find it hard to socialise as I am also quite blind – but I loved hearing the film, listening to the laughs from the audience and appreciated feeling part of a community again and discussing the film with others after! Thank you, Calder Community Cares, – And I'll be coming out again for the next event"
All in all, we had 37 Community Friends and Volunteers who don't often all get together, running events like this enable our beautiful people to meet each other and make new friends, which in trying times like the last year is so very important! Volunteer Ian Priddey, who has been with us since the beginning said:
"I have been volunteering pretty much since the beginning of the first lockdown and have been involved with the gardening scheme, delivered presents at Christmas and now co-ordinate the evening food pick-ups – so to finally get to meet some of the people we have taken care of was pretty special- as was the film – what a great choice for such a special occasion"
After a full risk assessment and weeks of planning we managed to plan this event which was a gentle transition for many of our Community Friends to finally get out and socialise with new and old friends. Joyce Newton a Community Friend said: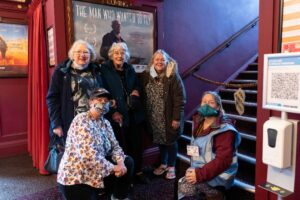 "…I have significant health issues I am very careful about where I go and what I do, but I felt so safe at The Picture House, and whilst I have also really enjoyed all the events and activities that Calder Community Cares delivered to my door over the last 18 months it was wonderful to be in such good company and feeling so safe at the same time – Thank you to all the staff at The Picture House for such a well organised welcome"
It is a brilliant thing to be able to bring people together to enjoy each other's company and finally have a proper belly laugh! We hope to be able to put on many more events like this in the future both our Community Friends and hard-working Volunteers to enjoy and benefit from. Sue and Irene Wilde two Volunteers summed it up beautifully:
"We really enjoy our time as volunteers for CCC, but the laughter and conversations from the people in the audience as we discussed the film afterwards. As well, the film brought us to tears, what a well-chosen film, and how nice to finally meet up with people that we have now got to know as friends and finally share some real time as one community that really does care."
A special thank you to everyone who made this event possible, our lovely Community Friend, fantastic Volunteers, and all the great staff at Hebden Bridge Picture House! Because of all you wonderful people we managed to put on a great and most of all safe, event. Here's hoping we have many, many more wonderful and successful events!
"Kindness is our currency and it is a currency our volunteers hold in abundance"Jan Lymer CCC Director
Need a little support? Want to volunteer?
https://caldercares.org.uk/contact/
or
Call us 07903 452 788
This project was supported by: